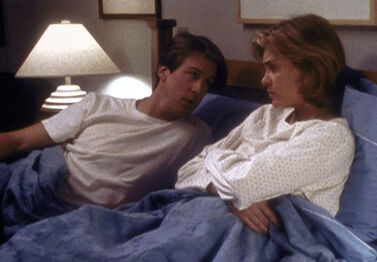 "Unnatural Selection" is an episode of The Outer Limits television show. It first aired on January 19, 1996.
Contents
1 Introduction
2 Opening narration
3 Plot
4 Closing narration
5 Trivia
6 External links
Introduction
Howard and Joanne Sharp are having a baby. They must decide whether to give their child all the advantages of black market genetic enhancements, which runs the risk of Genetic Rejection Syndrome (GRS).
Opening narration
" What will become of us when we take a hand in our own creation? In trying to create the new man, will we condemn the old? "
Plot
This section needs expansion. You can help by adding to it. (February 2009)
After seeing that their neighbor's son didn't die years ago, but has GRS and is slowly turning into a monstrous creature whose parents have been forced to imprison him in the basement, Howard and Joanne decide to reverse the genetic enhancement process of their unborn child. Unfortunately, the son was fond of his neighbors and breaks out of the basement, tracking them down and killing the doctor before he can initiate the reversal. Left with no choice but to have the baby, Howard and Joanne brood on their apparently-normal son and what could possibly happen in the future...
Closing narration
" What are children but an extension of our own selves... a reflection of who we are and what we want to become. "
Community content is available under
CC-BY-SA
unless otherwise noted.