Plot Summary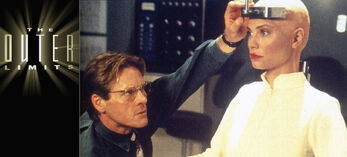 Valerie 23 (Sofia Shinas) is the latest development from the Innobotics Corporation. She is designed to be attractive, helpful and a perfect companion for a disabled man. Although he is the ideal test candidate, due to his condition and qualifications, Frank Hellner (William Sadler) is extremely reluctant to take part and wants nothing to do with Valerie. Nevertheless he eventually agrees to a one-week test period. Valerie proves to be an excellent caregiver, and more. Over the course of the test, Valerie becomes increasingly affectionate and Frank eventually gives in. After the sexual encounter, Frank explains to Valerie that he thinks it was a mistake. Frank begins to grow closer to his physiotherapi
st Rachel (Nancy Allen), and she invites him to a bar. Valerie responds by displaying more human traits such as anger and envy. After following Frank and Rachel on a rock climbing outing, Valerie attempts to dispose of her rival Rachel and is shut down before being returned to Innobotics. Frank decides that he must speak to Valerie before she is dismantled and asks for her to be reactivated. While restrained at Innobotics, Valerie tries to explain her feelings for Frank and rekindle the relationship, but to no avail. Valerie escapes, follows Frank and again tries to kill Rachel. Frank is forced to destroy Valerie with an electric shock. As she lies dying, she tells him that she is afraid to die. Earlier Frank had been told by Rachel that anything that fears its death is alive.
Trivia
As shown in the release of a compilation edition "Sex and Science Fiction", this episode set a racier tone with more sexual content for the Outer Limits revival as opposed to either its own original series or its "competitor" The Twilight Zone. This would continue throughout the revival series.
Cast
William Sadler ... Frank Hellner Sofia Shinas ... Valerie Tom Butler ... Charlie Rogers Nancy Allen ... Rachel Rose Paula Shaw ... Executive Bruce Harwood ... Technician
Community content is available under
CC-BY-SA
unless otherwise noted.