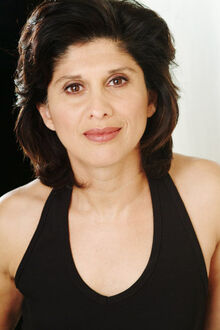 Veena Cabreros-Sud (pronounced "Sood") is a Canadian-born Indian-American television writer, director, and producer. She is best known for developing the American television drama The Killing, which is based on the Danish series Forbrydelsen (The Crime).
Veena Sood is an award-winning actress - of Indian descent, and is internationally recognized for her versatility in both comedy and drama. She has a theatre degree in Drama and went on to co-found "The Loose Moose Theatre Company" with Improv master Keith Johnstone. Over the years Veena has appeared in countless plays, films, television series, and continues to perform her improvisation shows. Veena grew up in the Canadian Rockies where she developed a passion for outdoor pursuits & nature expeditions. She was even a competitive rodeo participant when she was younger. She continues to live in the mountains in western Canada - and continues her passion for nature by traveling to remote world locations on nature expeditions.
In The Outer Limits, she plays the same character - "Dr. Katzman", in the episodes The New Breed and Caught In The Act, meaning that those two episodes take place in the same universe, and are therefore linked.
Community content is available under
CC-BY-SA
unless otherwise noted.