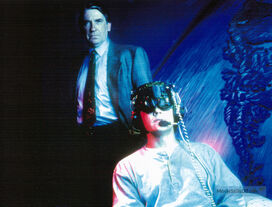 Introduction
A young researcher, Jack Pierce, is on the verge of losing university funding for his virtual reality experiments. In the middle of an experiment he suddenly discovers that his V.R. suit and software allows him to see a few minutes into the future.
Opening narration
"

Man has always been fascinated with the concept of going back in time. The question is

often asked, "If you could go back, would you do anything differently?" But what if it goes the other way? We never hear the question, "Would you do anything differently, if you could go forward?"

"
Plot
Despite his breakthrough, Jack (Josh Brolin) finally loses his funding. He takes his research to Bill Trenton (David Warner), billionaire owner of a successful research company. Trenton offers Jack a lucrative contract and a well-equipped laboratory to continue his work.
Jack takes the job, and eventually Trenton convinces Jack to allow him to try his virtual reality suit. Trenton "jumps" a few hours into the future and sees a newspaper headline about a woman killed at an ATM. Upon returning to the present, Trenton saves the life of the woman whose death he saw reported — proving that it is possible to alter the future as well as see it.
Trenton begins secretly making plans to profit from the device by using it to win a United States Senate election. He sneaks into the laboratory and "jumps" into the future again. He sees himself losing the election and ending up subpoenaed. Jack continues working on his suit and extends the range — allowing him to "jump" even further into the future. He sees his own murdered body floating in the ocean.
Jack tells his wife, Isabelle (Kelly Rowan), about the suit, its capabilities and what he's seen. At Isabelle's suggestion, Jack takes another trip into the future to find out more about the circumstances of his death, and sees Bill Trenton about to murder him. Meanwhile, Trenton breaks into the lab and Jack is forced to flee. He runs out onto the waterfront and along a pier. Trenton follows him and just as he is about to shoot Jack, Isabelle shoots Trenton instead. The final scene is Bill Trenton's dead body floating in the ocean, in the same manner that Jack foresaw his own death.
Closing narration
" Time is a river winding steadily through the landscape of tomorrow. There are those who would steal a glimpse around the next bend and those who would fight the current. But the wisest are those who turn their eyes from the waters and seek out a fellow traveller to share in the journey.
"
Cast



...

Jack Pierce

...

Isabelle Pierce

...

Wayne Fowler

...

Bill Trenton

...

TV Interviewer

...

FBI Agent

...

Guard

...

Young Woman

Rest of cast listed alphabetically:

...

The Control Voice (voice) (uncredited)
Produced by 
Brent-Karl Clackson ... producer (as Brent Karl Clackson) Manny Coto ... co-executive producer Pen Densham ... executive producer Fiona Duncanson ... associate producer Richard Barton Lewis ... executive producer (as Richard B. Lewis) John Watson ... executive producer
Community content is available under
CC-BY-SA
unless otherwise noted.