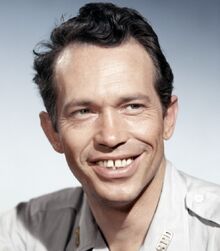 Warren Mercer Oates (July 5, 1928 – April 3, 1982) was an American actor best known for his performances in several films directed by Sam Peckinpah, including The Wild Bunch (1969) and Bring Me the Head of Alfredo Garcia (1974). He starred in numerous films during the early 1970s that have since achieved cult status, such as The Hired Hand (1971), Two-Lane Blacktop (1971), and Race with the Devil (1975). Oates also portrayed John Dillinger in the biopic Dillinger (1973) and as the supporting character U.S. Army Sergeant Hulka in the military comedy Stripes (1981). Another notable appearance was in the classic New Zealand film Sleeping Dogs (1977), in which he played the commander of the American forces in the country.
Community content is available under
CC-BY-SA
unless otherwise noted.