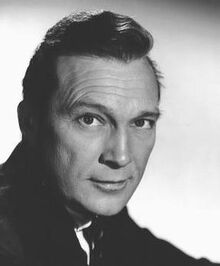 Warren Albert Stevens (November 2, 1919 – March 27, 2012) was an American stage, screen, and television actor.
Born in Clarks Summit, Pennsylvania, Stevens began his acting career after serving in the United States Army Air Forces as a pilot during World War II. A founding member of The Actor's Studio in New York, Stevens received notice on Broadway in the late 1940s, and thereafter was offered a Hollywood contract at 20th Century Fox. His first Broadway role was in The Life of Galileo (1947) and his first movie role followed in The Frogmen (1951). As a young studio contract player, Stevens had little choice of material, and he appeared in films that included Phone Call from a Stranger (1952), Wait Till the Sun Shines, Nellie (1952), and Gorilla at Large (1954). A memorable movie role was that of the ill-fated "Doc" Ostrow in the science fiction film Forbidden Planet (1956). He also had supporting roles in The Barefoot Contessa (1954) with Humphrey Bogart and Intent to Kill (1958).
Despite occasional parts in big films, Stevens was unable to break out consistently into A-list movies, so he carved out a career in television as a journeyman dramatic actor. Stevens was a Democrat who supported the campaign of Adlai Stevenson during the 1952 presidential election.
Stevens died on March 27, 2012, from complications of lung disease in his home in Sherman Oaks, Los Angeles, California. He had three children.
Community content is available under
CC-BY-SA
unless otherwise noted.