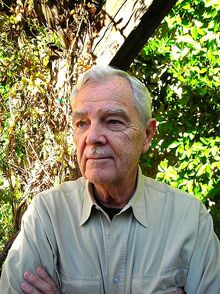 William Bast (April 3, 1931 – May 4, 2015) was an American screenwriter and author. In addition to writing scripts for motion pictures and television, he was the author of two biographies of the screen actor James Dean. He often worked with his lover Paul Huson.
n the late 1950s, Bast adapted Jean Giraudoux's play Tiger at the Gates for Granada Television, and wrote scripts for the BBC and ITV. Back in the States he wrote episodes for Combat!, Perry Mason, Ben Casey, The Outer Limits, Alfred Hitchcock Presents, Honey West, and Dr. Kildare, among other series.
In 1976, he received the Mystery Writers of America's Edgar Allan Poe Award for his television movie The Legend of Lizzie Borden with Elizabeth Montgomery in the title role. In 1977, his adaptation of Alexandre Dumas, père's The Man in the Iron Mask, starring Richard Chamberlain in a dual role, received two Emmy nominations for Bast's script and Olga Lehmann's costume designs. His script for The Scarlet Pimpernel with Anthony Andrews and Sir Ian McKellen was honored with a Christopher Award in 1982, and his The First Modern Olympics won the Writers Guild of America Outstanding Script for Television Longform Series for 1984.
From 1985 through 1987 Bast wrote and produced The Colbys, a spin-off from the popular series Dynasty, with his boyfriend Paul Huson; The Colbys won the 1986 People's Choice Award. He also collaborated with Huson, writing and producing a variety of television movies and series, including Tucker's Witch, The Hamptons, Pursuit, The Big One: The Great Los Angeles Earthquake, Deadly Invasion: The Killer Bee Nightmare, Power and Beauty, and The Fury Within.
Bast's motion picture credits include the script for Ray Harryhausen's The Valley of Gwangi, Hammerhead, and an adaptation of Harold Robbins' The Betsy. He died on May 4, 2015 at the age of 84; he had Alzheimer's disease.
Community content is available under
CC-BY-SA
unless otherwise noted.