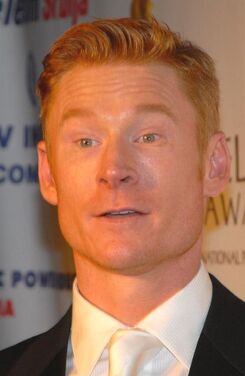 Zack Ward (born August 31, 1970) is a Canadian character actor.
Ward was born on August 31, 1970, in Toronto, Ontario, Canada, the son of actress Pam Hyatt.
He is known for his character Dave Scovil (Titus's stoner half-brother) on the FOX show Titus and as the bully Scut Farkus in the 1983 perennial Christmas movie A Christmas Story. He also has guest roles on popular television series such as NCIS, Lost, and Crossing Jordan. Ward has had roles in films such as Almost Famous, Transformers and Anne of Green Gables. He has appeared in the horror films Resident Evil: Apocalypse and Freddy vs. Jason. Ward also has leading roles in BloodRayne 2: Deliverance and Postal. Ward can also be seen in Alone in the Dark II[2] and The Devil's Tomb.
In 2014 Ward co-founded the film production company Grit Film Works with James Cullen Bressack. The first two films which he co-produced with Grit Film Works were the thriller Bethany and the horror film Restoration.
Zack is the CEO of Global Sports Financial Exchange, Inc since 2017.
Community content is available under
CC-BY-SA
unless otherwise noted.